Dogs need exercise! But how much exercise does your dog need? And how much exercise is healthy for a puppy? Puppies are not as resilient as healthy adult dogs. Just like human children, their bones are still soft and the growth plates are not yet closed. Plan for one too many rest breaks rather than one too few!
In general, smaller dog breeds are grown up earlier than large dog breeds. Therefore, they can be more stressed earlier. Small dogs are often already fully grown at about eight months. Medium-sized dog breeds need already one year for it. Large dogs are not fully grown until one and a half years and giant breeds even need two years until they are fully grown.
Five minutes per month of life
The bigger the puppy becomes later, the longer it should be spared. This is because overloading can lead to misalignment of the joints and increase the risk of suffering from joint diseases and back problems. Therefore, the following rule of thumb has been established: A puppy should walk for a maximum of five minutes at a time per month of life.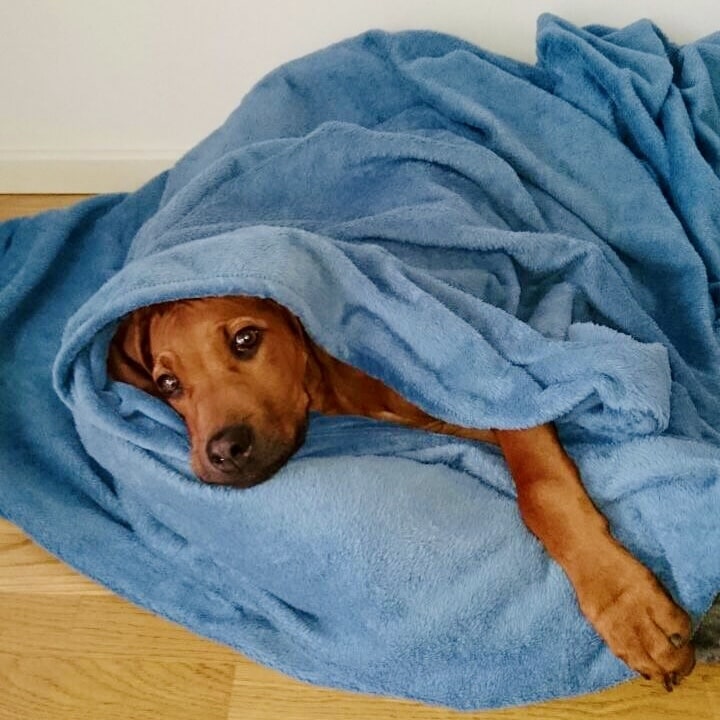 So when you take your puppy or young dog for a walk, the rule is: less is more! Take regular breaks and have small training sessions along the way. To make sure you're still progressing, a dog can relax in a puppy backpack. Nose work is ideal for keeping puppies busy. The natural exercise will tire your puppy out without putting any physical strain on him. For this, you can simply lay a trail of treats or hide them. But be careful: some dog breeds need to "learn" to take breaks. Because lack of rest can lead to stress and restlessness.
Puppy backpack
TARIGS dog carrier backpacks are the perfect carrier for a break on the road. The PeakStone Backpack can also be used as a travel bed and retreat in hotels, restaurants, …
Usually we recommend to order directly the size that fits in the long term. For puppies like Labradors or Rhodesian Ridgebacks, which become too big for a dog backpack, we recommend directly the size Large. Surely the backpack will be a bit big for the puppy in the beginning. Too much space in the backpack is actually never wrong. It is best to put the TARIGS Booster Seat, a blanket or a pillow in the backpack, so that your puppy sits a little higher. The Booster Seat can also be used as extra storage space for your puppy backpack.
Hiking with puppies
Puppies need to be trained and encouraged. They should get to know the world. And not to be overtaxed. Not so easy! What if they go limp on the road or during a hike?
Small dogs are fit enough at the age of about one year to go on longer hikes with appropriate breaks. The larger the dog becomes, the longer he should only do short tours.
A hike with a dog should be carefully planned. Whether hiking with a young, adult or old dog: make enough breaks and take enough food with you. In the dog backpacks from TARIGS there is enough space for dog, food and more. Cover miles while your pup enjoys the view! Plus, you'll always have your hands free and can easily negotiate difficult stages like stairs.
Cycling with puppies
Puppies and young dogs up to one and a half years old are not allowed to ride bicycles at all. The same applies to dogs with joint and cardiovascular diseases, senior citizens and heavy breeds.
Very small dogs have a hard time keeping up the pace when riding a bike. Be aware that the risk of heat stroke is very high in these dogs. And some breeds of dogs are not at all suitable for running on a bike. These include bulldogs, for example. To be safe, ask your veterinarian. Of course, your dog's individual fitness and the weather also play a role.
In general, only adult, healthy and fit dogs are suitable for carrying on the bike. For all other dogs, you should definitely have a dog backpack, dog basket or dog trailer with you. Dog backpacks have the advantage that they do not need to be mounted. The backpack can also be used for rental bikes on vacation without any problems. In addition, thanks to the large volume, it can be used as luggage instead of a bag or suitcase. For large dogs, unfortunately, only a dog trailer is still suitable.
Don't forget: Tag us on your adventures! #tarigs